HxC floppy emulator firmware for Gotek drives presentation
The HxC Floppy Emulator firmware for Gotek is the enhanced firmware for the Gotek Floppy Emulators replacing floppy disk drives on old computers, keyboards/samplers/synths and CNC machines to use modern USB sticks instead of the old floppy disks.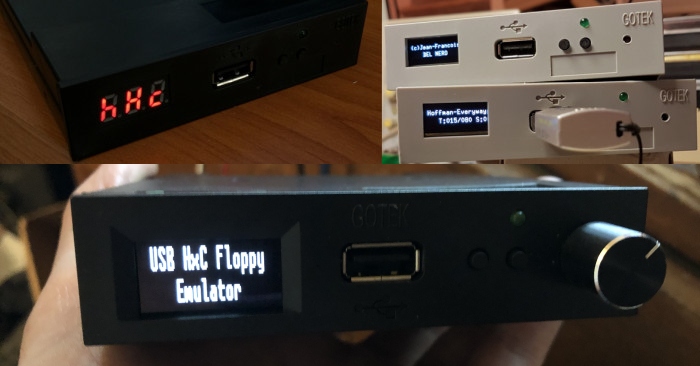 HxC firmware for Gotek enhancements
The HxC Floppy Emulator firmware add to the Gotek floppy emulators new features, new user interfaces, new floppy disk formats support, new machines support and new floppy image types support !
Here is a non-exhaustive list of features brought by the HxC Floppy Emulator firmware for Gotek floppy emulators :
Hundreds of computers, keyboards/samplers/synths and CNC machines supported ! : See the non-exhaustive machines list !

Highly configurable and customizable !

3", 3"1/2, 5"1/4, 8" disks supported…

Single and Double sided disks supported.

FM / SD, MFM / DD or HD densities supported.

Bitrate : 125Kb/s, 250Kb/s, 300Kb/s, 500Kb/s…

All RPM supported : 300 RPM, 360 RPM, 600 RPM…

All sector sizes supported : 128/256/512/1024/2048/4096 Bytes…Mixed sizes supported !

All track skew and sector interleaving supported.

Up to 255 tracks per disk supported.

Efficient and Smart write-back memory cache.

Special : Copy protections, Variable bitrate, weakbits and special formats supported.

Experimental : Hard-sectored disk emulation support.

(With LCD/OLED/OSD) : USB stick browser to select the file image to load. Folders/Subfolders supported.

Mount USB Stick's folder as a FAT/DOS compatible floppy disk ! (NEW ! fw version >= v3.2.1.1a)

Image-Less mode supported ! : Can mount USB stick's FAT12 partitions as floppy disk ! Easy files exchanges with DOS/FAT compatible machines ! (NEW ! fw version >= v3.5.1.1a)

*.HFE (v1 & v3), *.ADF, *.ST, *.DSK, EDSK, *.IMG, *.IMA, *.W30 and many others file image formats directly supported ! See the complete list

User defined raw/disk image support ! : You can add/define your own image/disk format to the firmware !.

Optional user Interface enhancements : LCD / OLED screens support, On screen display (OSD) support, Rotary support, Trackball support, Additional buttons support, buzzer support…

True "file config less" mode : Embedded configuration interface/menu.

Compatible with the HxC Direct Access protocol : HxC File selectors and HxCMount supported. AutoSwap supported.

Firmware customization service ! : Adapt it to your needs !

Compatible with STM32 and ARTERY AT32 Goteks !
Gotek Hardware compatibility list
The HxC firmware can be installed on most of Gotek models :
Gotek Models References

SFR1M44-U100LQD (New model - Directly shipped from GOTEK System with an OLED screen and a rotary selector)

SFR1M44-U100K

SFR1M44-U100

SFR1M44-U

SFR1M44-FU

SFR1M44-TU100K

SFR1M44-SUE

SFR1M44-LUN

SFR1M2-FU

SFRM72-FU

SFRM72-TU100K

And most of the clones/machine specific solutions.
| | |
| --- | --- |
| Note | The Gotek model name specify the installed factory firmware and the default screen shipped with the emulator. Most of them generally share the same PCB references. |
Gotek PCBs/Boards References

SFRKC30.AT4.35 (64 pins AT32F435 ARTERY MCU)

SFRKC30AT4 / SFRKC30.AT4 / SFRKC30.AT4.7 (64 pins F415 ARTERY MCU)

SFRKC30AT3 (48 pins F415 ARTERY MCU)

SFRC922AT3 (48 pins F415 ARTERY MCU)

SFRKC30.AT2 (QFN32 F415 ARTERY MCU)

SFRC922D (64 pins STM32 or F415 ARTERY MCU)

SFRBA16D (64 pins STM32 or F415 ARTERY MCU)

SFRC922 (64 pins STM32 MCU)

SFRC922B (64 pins STM32 MCU)

SFRC922C (64 pins STM32 MCU)

SFRC526 (64 pins STM32 MCU)

SFRBA16 (64 pins STM32 MCU)
Purchase

Contact
For any problem, question or enhancement request don't hesitate to contact us !


---
| | | |
| --- | --- | --- |
| HxC Floppy Emulator project | Legal Mentions | (C)2006-2022 HxC2001 / Jean-François DEL NERO |