Software store
You can find here differents firmware and software available. Paypal and Credit card payments available.
STM32 USB HxC Floppy Emulator Firmware
HxC Firmware for Gotek USB floppy emulators

10 Euros
without VAT/TVA

Buy :

Flash tool

Last Firmware Update
(Release notes)

Manual/Instructions

Utilities download page

The HxC Firmware for Gotek extend/enhance the original Gotek firmware with many floppy formats support and functionalities !

- The HxC firmware is currently able to emulate almost all existing floppy disk formats :

Hundreds of computers, keyboards/samplers/synths and CNC machines supported ! See the non-exhaustive list.
3", 3"1/2, 5"1/4, 8" disks supported...
Single and Double sided disks supported.
FM / SD, MFM / DD or HD densities supported.
Bitrate : 125Kb/s, 250Kb/s, 300Kb/s, 500Kb/s...
All RPM supported : 300 RPM, 360 RPM, 600 RPM...
All sector sizes supported : 128B, 256B, 512B, 1024B, 2048B... Mixed sector sizes supported.
All track skew and sector interleaving supported.
Up to 255 tracks per disk supported.
Special : Copy protections, Variable bitrate and special formats supported.
*.HFE (v1 & v3), *.ADF, *.ST, *.DSK, EDSK, *.IMG, *.IMA, and many others file image formats directly supported ! See the complete list.

- Optional user Interface enhancements : LCD / OLED screens support, Rotary support, Additional buttons support, buzzer support...
- True "file config less" mode : Embedded configuration interface.
- Compatible with the HxC Direct Access protocol : HxC File selectors and HxCMount supported.
- Software and firmware updates !

Extended user support -> For any problem, question or enhancement request don't hesitate to contact us ! :

(c)2006-2018 HxC2001

Important :
For your first purchase, please fill out carefully the "Informations client"/"customer information" form.
The informations will be used to generate the invoice and the email will used to send you the necessary information to program the devices.
For further purchases, you just have to login with your email/password used during the account creation.
The form to fill is in French language only for the moment. Unfortunately i don't have any control over it to translate it. Anyway here is a translated screenshot to help you: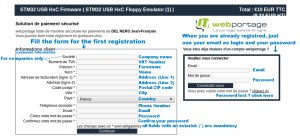 The license server account creation & credit increment may take up to 15 Minutes. Once done you should received your login/password or the credit increment confirmation by email.
---
>HxC Floppy Emulator Support List <

(c) 2006-2018 HxC2001
(c) 2006-2018 Jean-François DEL NERO
Mentions Legales

---