Texas VPU200 3104 Floppy disk drive replaced by an HxC Floppy Emulator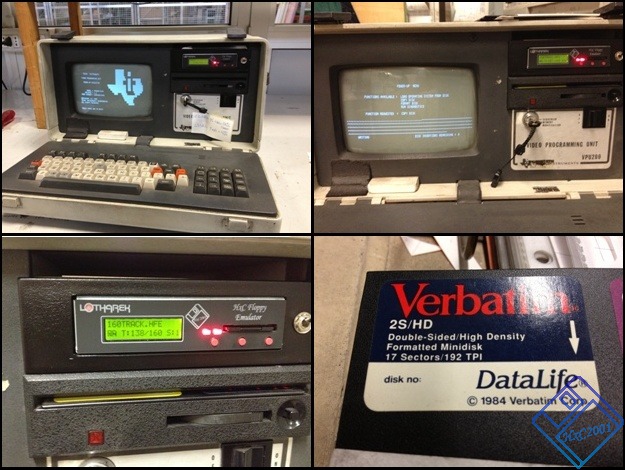 The Floppy disk drive of this Texas VPU200 3104C machine was successfully replaced by an HxC Floppy Emulator.
- Original floppy disk drive was analyzed and backuped by the HxC Floppy Emulator software.
This machine use a very special and rare floppy disk drive & disk format : The KODAK 3.3MB 5"1/4 disk. This kind of disk have 160 tracks or 320 tracks vs 80 tracks for an normal floppy disk drive.
The HxC Floppy Emulator work out the box with the 160 tracks disk format (3.3MB).
User Feedback :
<<
Attached you can find photos about application FLOPPY DRIVE KODAK 3.3 MB, double-sided, 17 sectors per track, 160 tracks.
It has been used on PG PROGRAMMER TEXAS VPU200-3104.
Tested and working.

Thank you for this project. Sincerely.

V.C S.r.l.
N.P
Italy
November, 5, 2012
>>
---